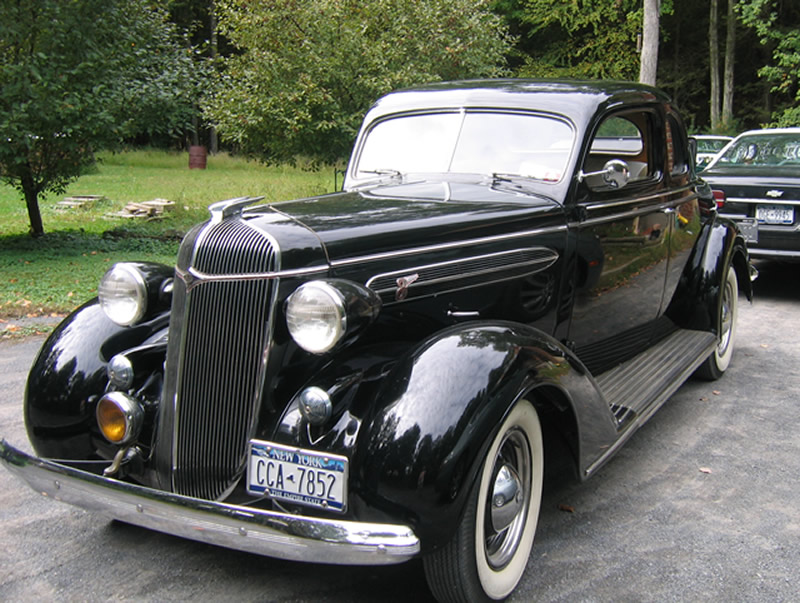 1936 CHRYSLER AIRSTREAM C-8 RUMBLE SEAT COUPE

Here are some photos of my uncle's, rare, 1936 Chrysler Airstream C-8 coupe with rumble seat and 8 cylinder engine. Does anyone know of another like it?
The 1936 production records indicate that Chrysler built over 43,000 6 cylinder Airstreams (model C-7) that year but only 9,502 Airstreams with the 8 cylinder engine (model C-8). Of the 9500 C-8's over 6500 were 4-dr sedans……only 325 were reported to be Rumble Seat Coupes like this one!
A C-8 coupe just like this one was one of my uncle's first cars. He bought it used in the late 1930's for $50. He said the dealer couldn't sell it because everyone wanted a more practical car that would hold the whole family along with groceries, etc. Mom remembers his coupe was a medium green color (see photo below). Whenever she went for a ride as a teenager she had to bundle up real well because she had to sit in the rumble seat and the ride was always windy and cold back there. My uncle drove his Chrysler for many years including several trips from New York to Texas when he was stationed there in the Service (he boasted that the car made real good time over the straight, flat roads in the Midwest). He only sold the car after the war when he got married and needed something more practical himself. For many years he dreamed of locating a similar car but there just were not many of this model that survived. Although he found several 6 cylinder coupes and even a few 8 cylinder business coupes it took him many, many years to finally locate this rumble seat coupe. Although it is rarely driven and just sits in his garage my uncle is still thrilled to know he finally owns one again.
As the photos show, this vehicle is in excellent condition. The odometer shows just 54,000 miles so this could be a pampered original or an older restoration. It's hard to tell. The car seems to be complete except for the rear fender skirts and it does not have the usual bumper guards but it does have a fog light. As you can see from the old photo below, my Uncle's Chrysler had dual sidemount tires. The one he has now has the tire and tools stowed in the narrow space just behind the passenger seat. My uncle said that he located this car in Indiana and that it had previously been displayed in a museum near there. If anyone has seen this car before or can supply any insight or information as to its history it would be greatly appreciated.
Does anyone know if there is a way to tell a C-7 from a C-8 in a photograph? The only external difference seems to be the "8" on the hood side trim? The length in front of the firewall is said to differ but that is hard to judge in a photo.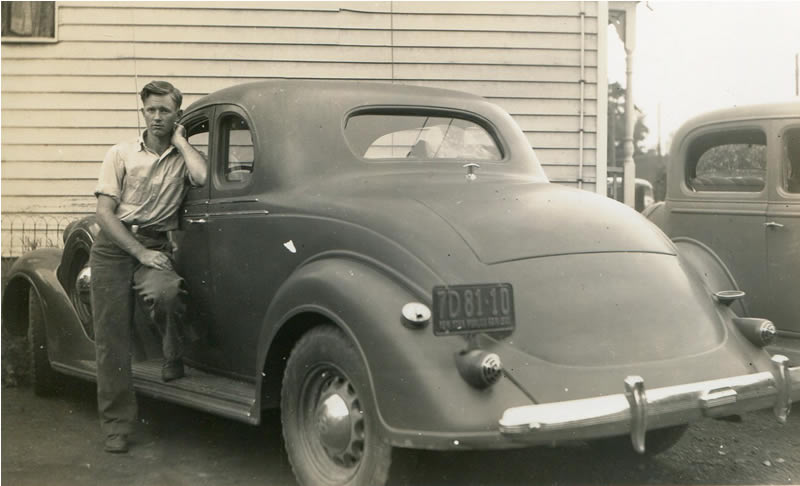 MY UNCLE AND HIS CHRYSLER IN 1939!