Frog Alley Home
Built by Peter Cornelius Louw
The house is believed to have been erected between 1665 and 1669 by Peter Cornellius Louw who had come from Holland in 1659. The house formed part of the NW entrance to the old Stockade and was referred to as the "Mill Gate" for many years. The main wagon road to the fording place went past the door. This was the only direct avenue to the north side of the Esopus Creek until 1790 when a bridge was finally built. Peter C. Louw married Elizabeth Blanshan in 1668 and they had 6 sons and 3 daughters while living in the Frog Alley house.
My interest in the Frog Alley property concerns the years 1892 – 1921 when it was the farm and residence of my Great Grandfather Wm. F. Dunneman (Dutch Billy). William Dunneman was married to Louisa Delzer on November 29, 1891. My grandmother was born in that old stone house in September 1893.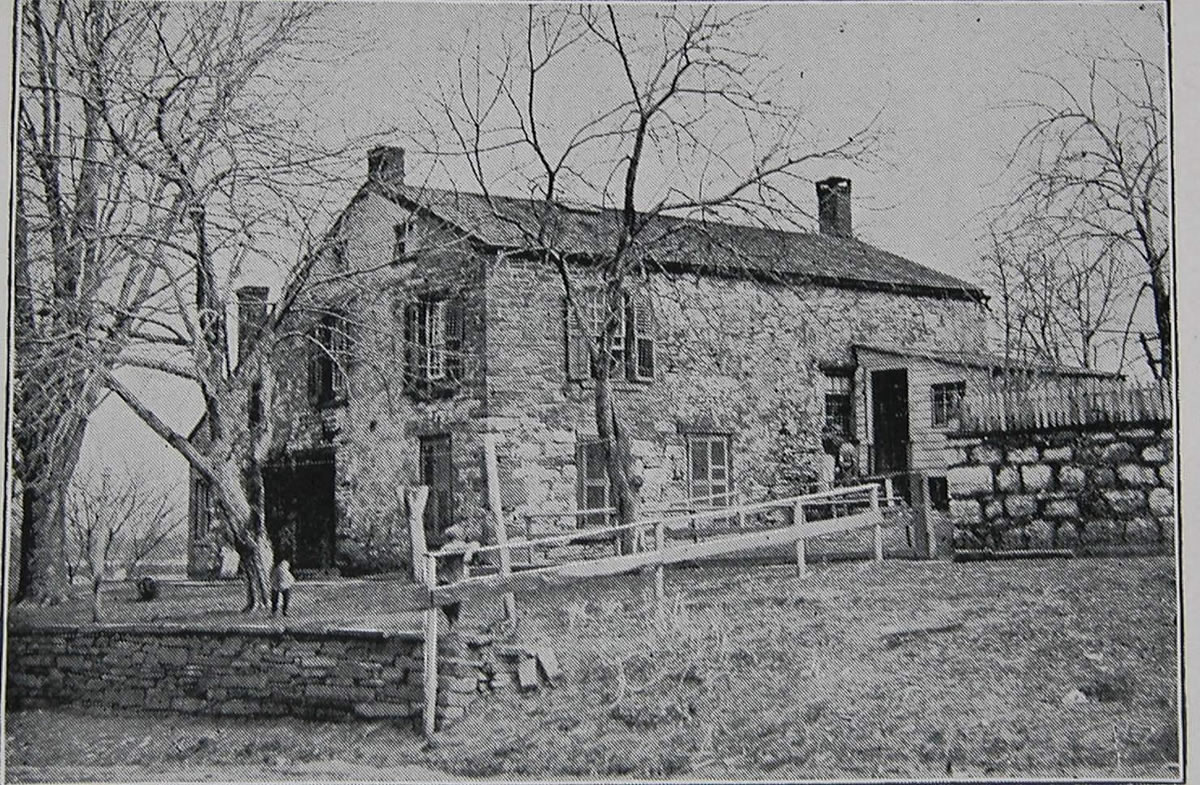 1896 - This may be the oldest photo of the Louw home. It was found in an 1896 Picturesqe Ulster, Vol 1 page 17. My grandmother was born in this house and the family still lived there during this time period so the kids in the photo could be my grandmother and her siblings?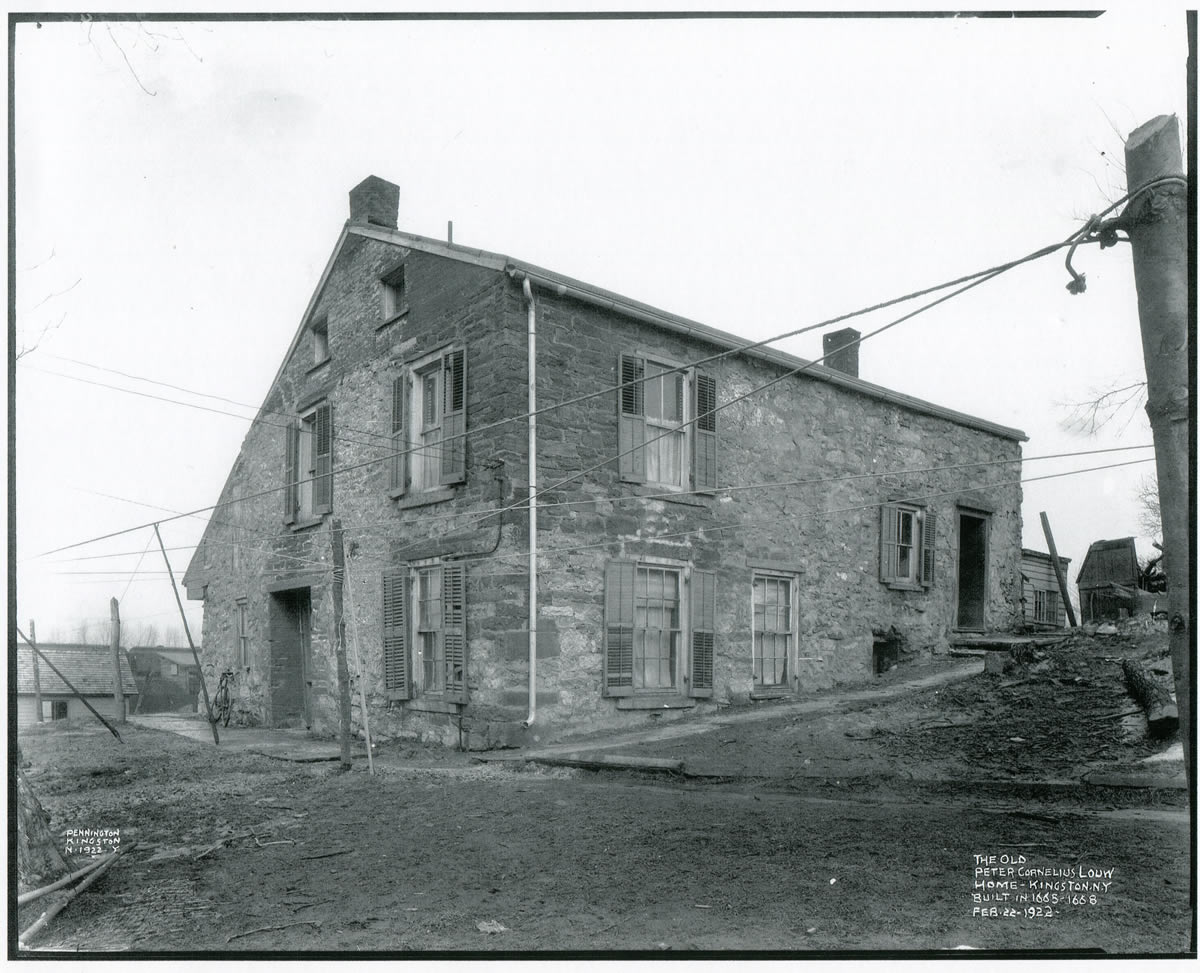 1922 - This was a formal photo taken by Pennington Studios on Feb 22, 1922. This was the year after my greatgrandfather sold the property. Notice the train parked on the tracks in the background.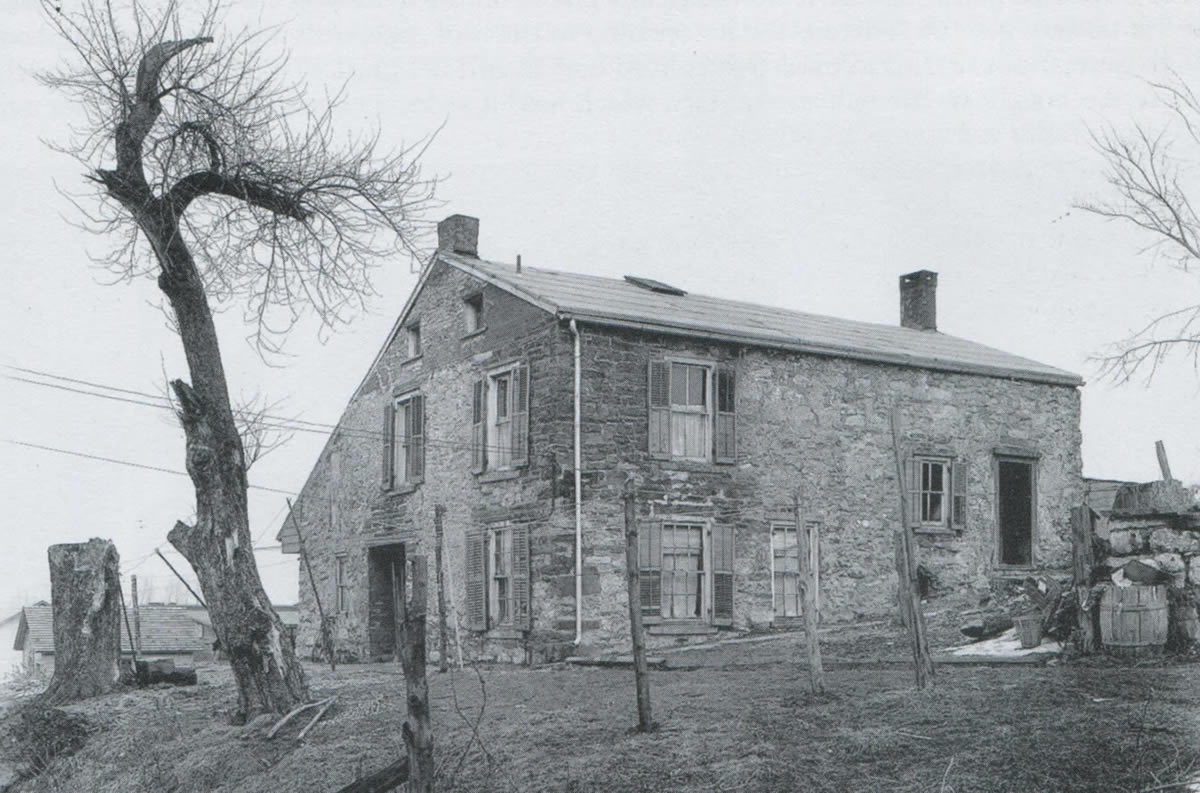 1922 - Another Pennington photo taken the same day in 1922 found in "Legacy in Stone".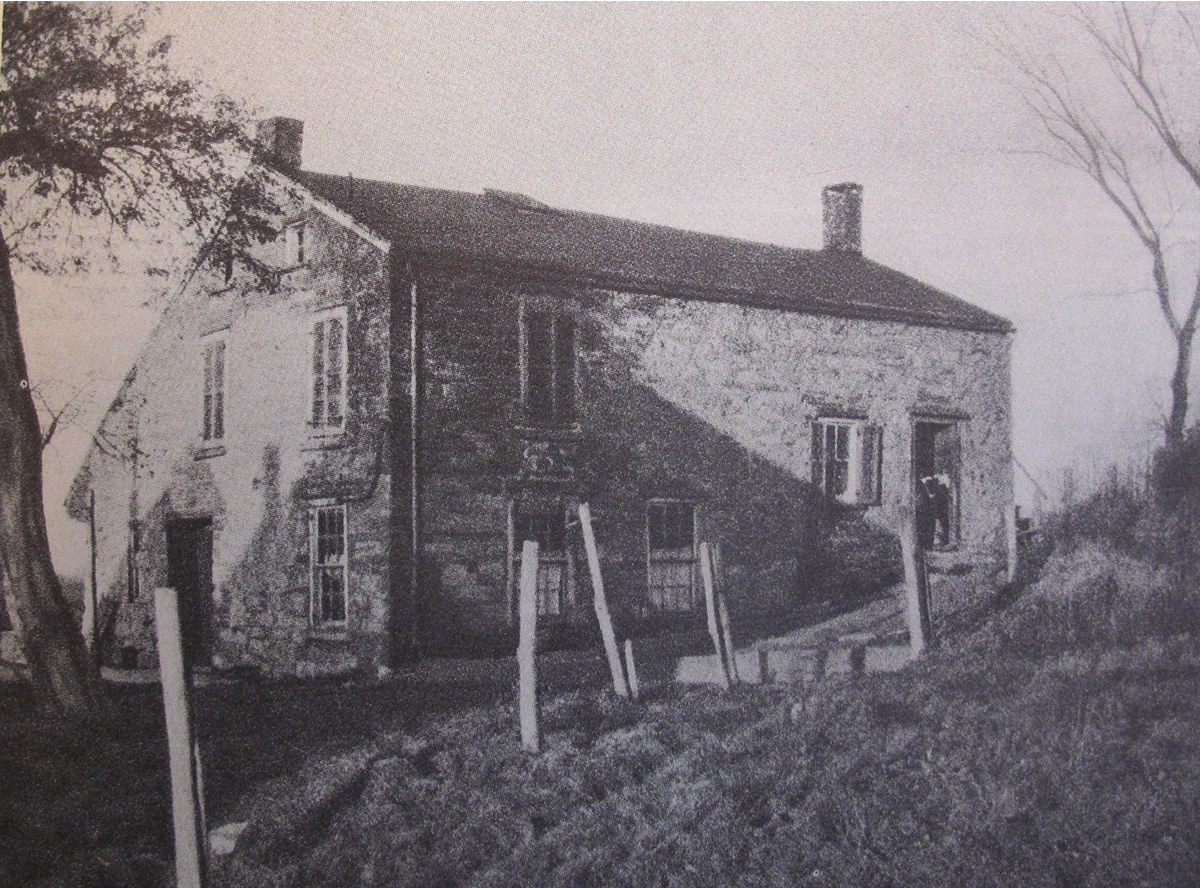 1929 - The Frog Alley home in 1929. Taken from Dutch Homes of the Hudson Valley by Helen W Reynolds.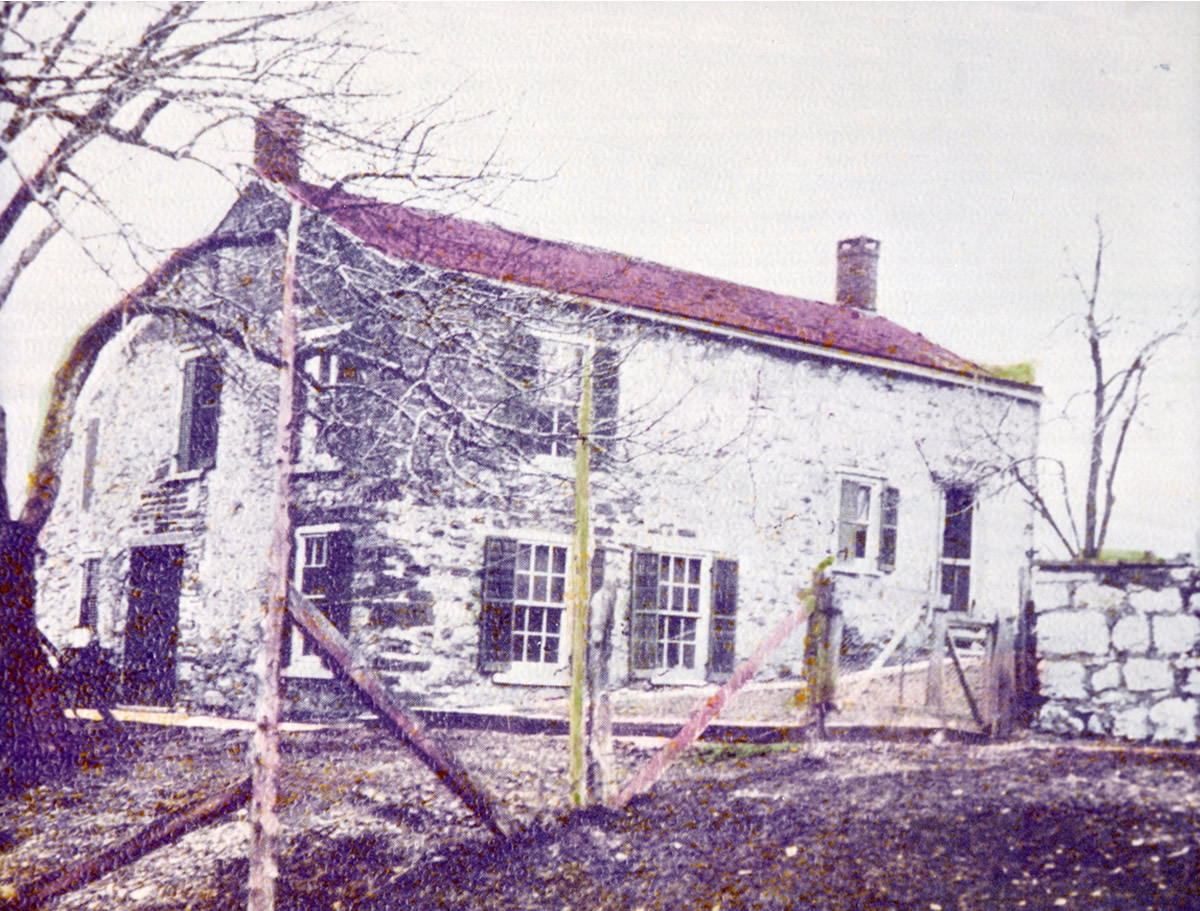 1930's? - I am not sure of the date but probably early 1930's as it still has two chimneys and by 1937 only one is showing. Thanks to Carol Lang for this colorized photo.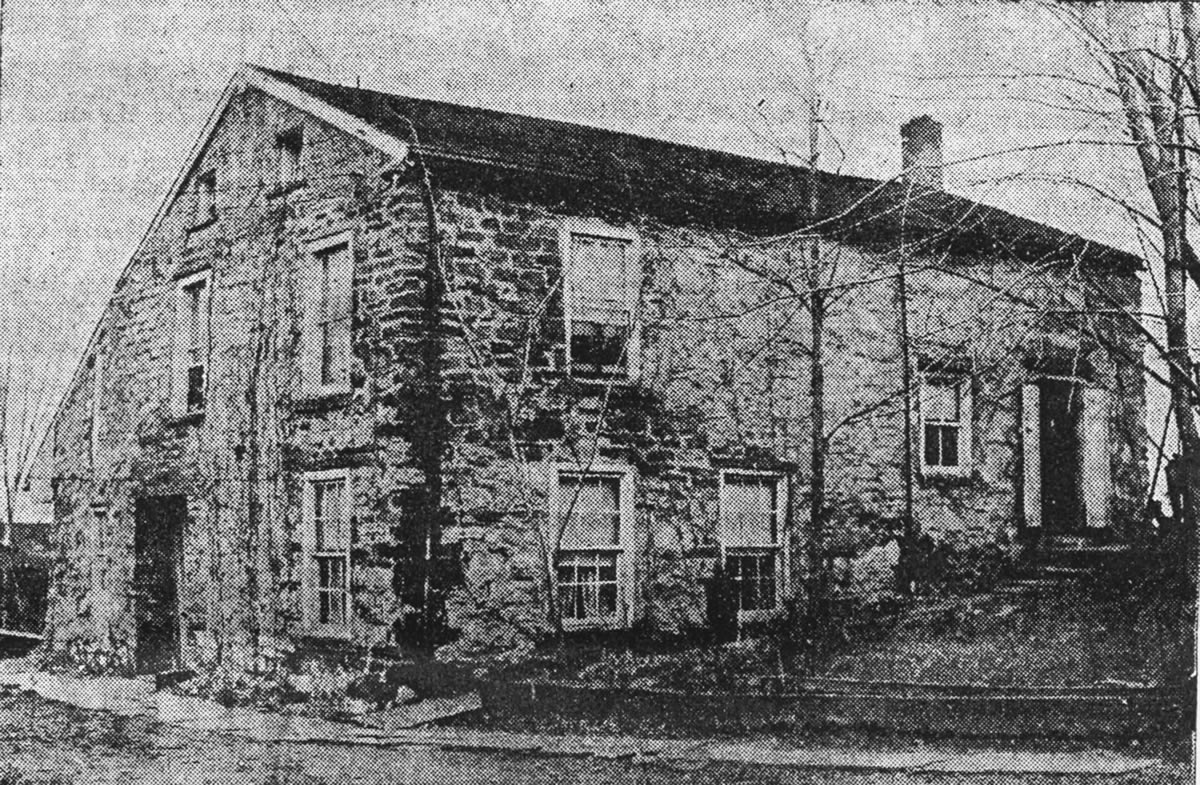 1937 - The Frog Alley home in 1937. Taken from an issue of the Daily Freeman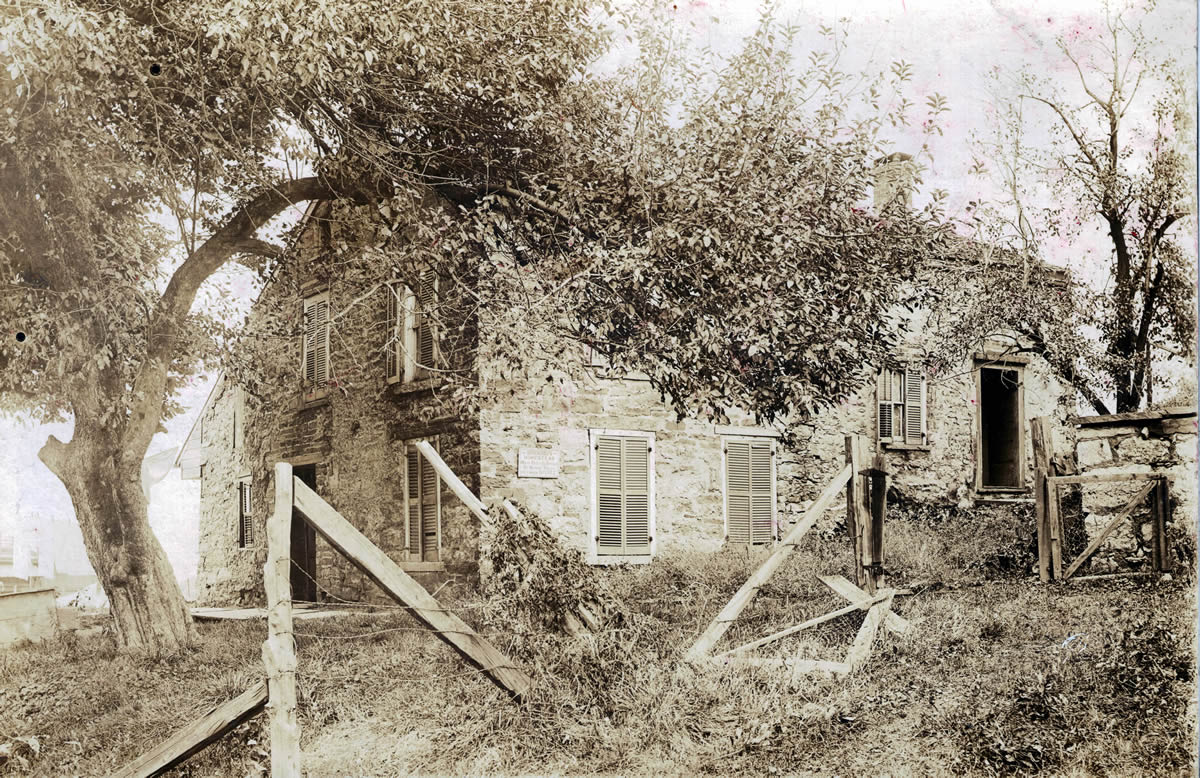 Between 1943 and 1962. This photo is found in the Old Dutch Church archives, the Rigby Collection. Very similar view as the colorized photo but the shutters are closed and it now seems abandoned? Note there is now a marker on the wall that reads "Bogardus Homestead - was partially burned by British troops October 16, 1777"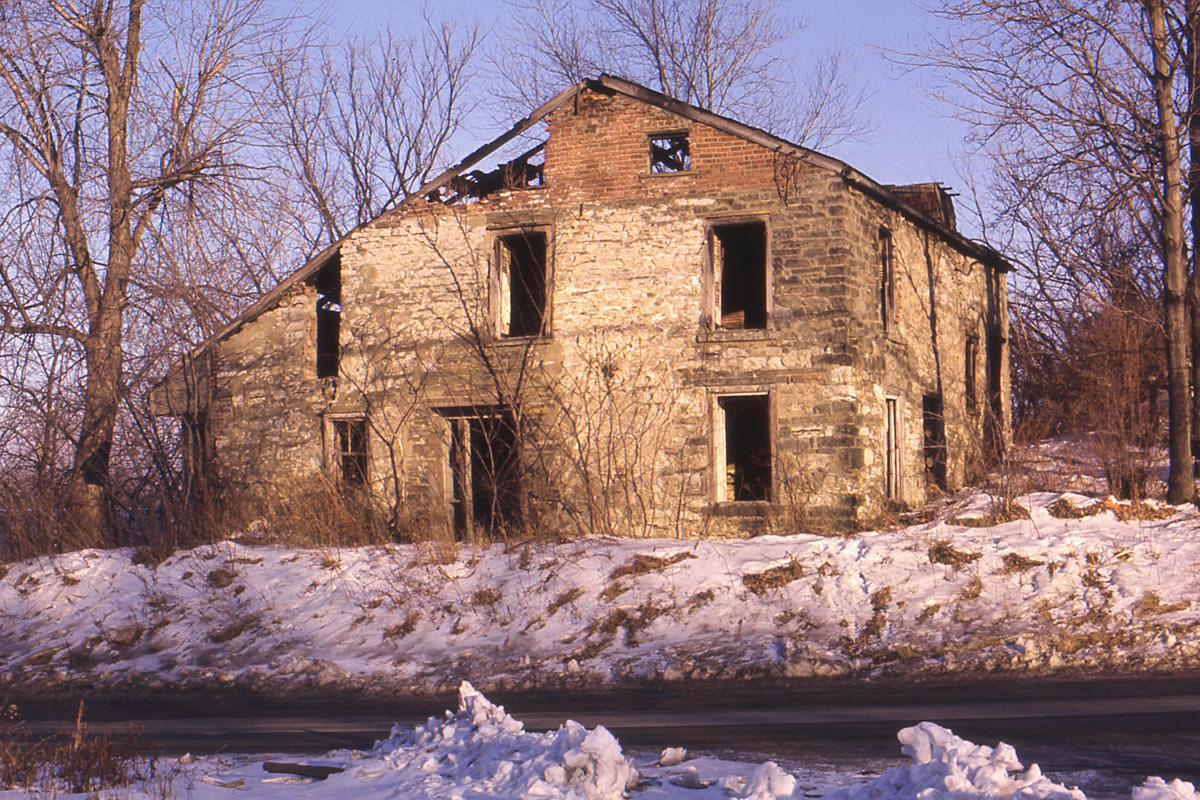 1969 - This photo was taken by Robin L. Lyke in February 1969. This was before the protective fence was added by the Friends of Historic Kingston (1975)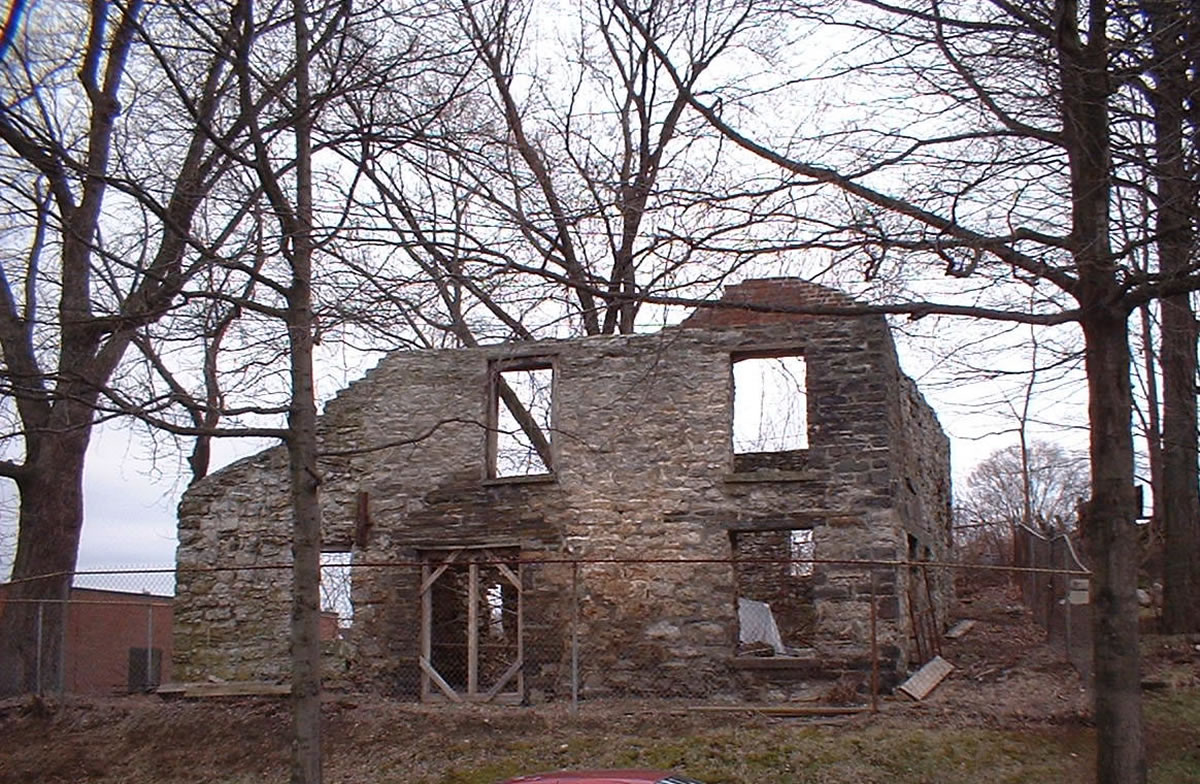 2004 - This photo was taken by me, James Werner, in April 2004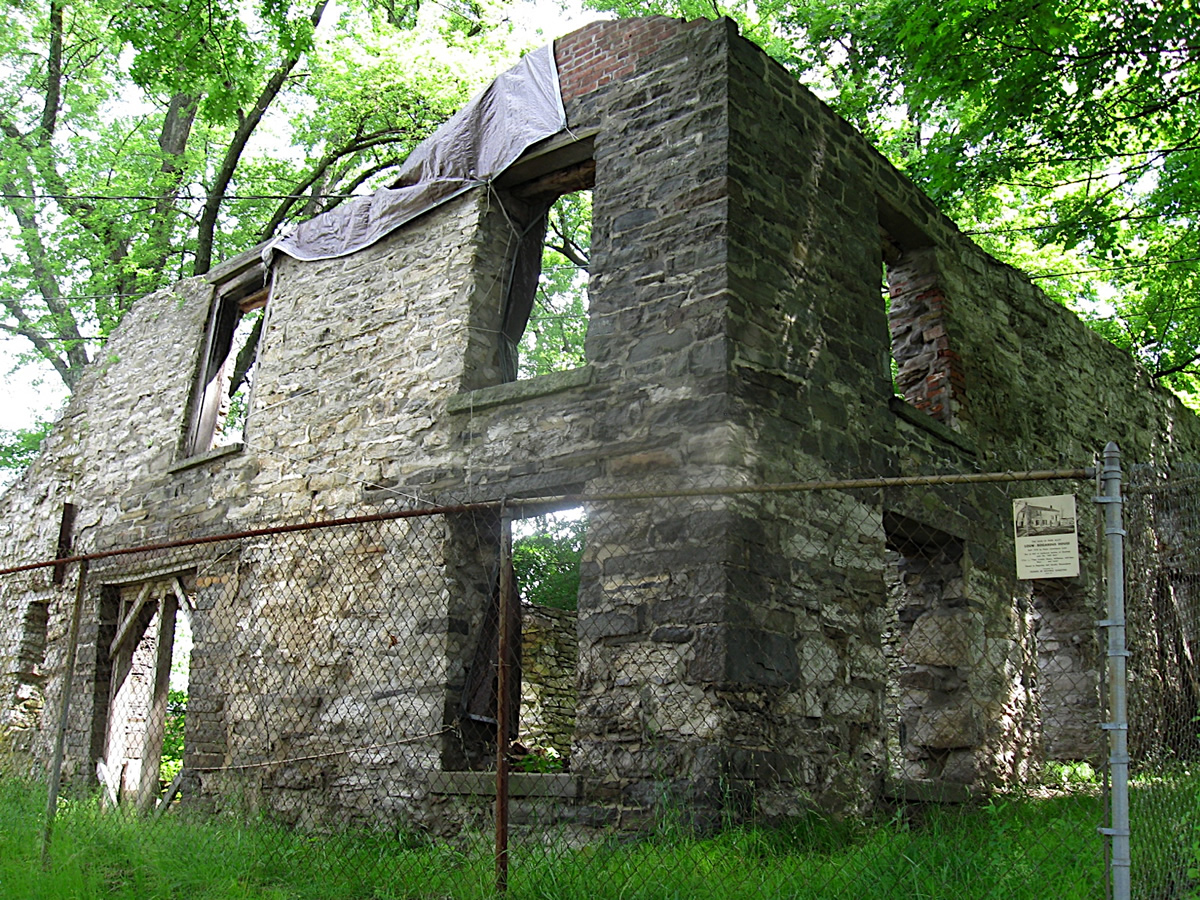 2009 - This photo was taken by me, James Werner, in 2009
Below is an extract of the owners and significant events concerning the old Louw stone house on Frog Alley.
(deed references where known)
1615 "authentic records establish the construction of a small fort at Ponckhockie …. as early as 1615, only six years after Hudson's discovery." Excerpt from Kingston Gateway to the Catskills printed in August, 1931 by the Kingston Chamber of Commerce:
1652 Thomas Chambers and a few neighbors unhappy with economic and political restrictions to the north in Fort Orange settled here in 1652. Esopus was the 3rd settlement in New Netherlands after New Amsterdam (New York) and Fort Orange (Albany). Originally known as Esopus, for a few years, the settlement was renamed Wiltwyck (meaning "wild refuge") by Peter Stuyvesant.
1655 A dam had been constructed where the Tannery Brook met North Front Street (outside of the Stockade) which created a mill pond in the low area between North Front St. and Lucas Avenue. Originally known as the Slecht Grist Mill and Mill Pond, ownership of the property was passed to one of his employees, Pieter Jacobsen (VanHolstyn). When Jacobsen died in 1655 the property passed to his partner, Pieter Cornelissen Louw. (from Dutch Esopus Memories by Ted Dietz)
1658 The First Stockade was ordered built by Peter Stuyvesant to protect the early settlement.
1659 The First Esopus War
1661 The Stockade was enlarged to include Green Street and probably extended past North Front Street to the bluff above the site of the present Frog Alley ruin.
1664 New Netherlands passed from Dutch to English control and the settlement was permanently named Kingston.
1676 Cornelis Woutersen agreed to build for Pieter Cornelis (Louw) "a shed, built of stone, viz. cliff-stone, 8 feet high, back of the house, 20 feet wide, 25 feet long, with loft and floor and doors and a transom-window……and he shall go to work next May" This stone "shed" was built just outside of the stockade wall near the Northwest corner. It forms the southeastern portion of the old house ruin and it still visible today. – from The Early History of Kingston by Marc Fried. Does this date the ruin to 1676? Although the translation from the Dutch refers to this as a "shed" it was obviously a very substantial structure that has stood for well over 300 years. PC Louw made this into his home at some point. If the building existed without heat and a kitchen it meant fireplaces had to be added before it could be lived in. If the building was constructed without chimneys and chimney footings could this be why the two Dutch jamless fireplaces of the free hung chimney variety were added?
1688 NN217-Trustees to Peter Cornelisse Low a certain Mill, Lot, meadow and water stream belonging to the mill fronting the North or Bridge Street (No. Front St.).
1690 AA429 Last Will and Testament of Pieter Cornelisse Low- He left ½ of his property to his widow, Elizabeth Blansham Low (mar. 1668) and ½ to his children (six sons and three daughters).
1701 AA282-Peter Cornelissen Low to Benjamin Smedes all land and mills, real and personal estate of PC Low
1710 BB64- Elizabeth Low conveys all lands to her children of PC Low. (this year the youngest child had "come of age") (five children took land on the north side of the creek as their inheritance and four took the mill house property)
1710 BB67- Cornelis Low (deceased) to children, house and lot, E of Cornelis Stagenbooom, W of Johannes Wynkoop, N of Griete Elmendorf
1710 BB70,72,74 – Johannes Low, Mattys Low, Pieter Low to Benjamin Smedes, 1/4 each of a certain mill house, milldam, etc S of Esopus Kill – bordered on W by descendents of Cornelius Hoogenboom, N Mattys Mattysen, Teunis Elisen & heirs of Wessel Tenbroeck, E Johannes Wynkoop, S Grietie Elmendorf & Hendrick Pruyn. Benjamin Smedes was married to married to Madaline Louw who already owned ¼ of her father's property so Smedes now had it all.
1767 Benjamin Smedes died and left the property to his son Nathan Smedes
(1777 Residents list - Geertroy Bogardus owned East side of Frog Alley North of No. Front St.)
1777 House was burned by the British but is assumed to have been immediately rebuilt.
1783 NN217 – Nathan Smedes to Benjamin Bogardus, a certain mill, mill pond and lot, meadow and water stream belonging to the mill.
1806 Typhoid Fever raged through the village and was soon traced to the unhealthy water caused by the deposits that had built up in the Mill Pond for more than a century. In November, 1806, the Village directors past an ordinance declaring the Mill Pond a nuisance that must be "drained within thirteen days". Benjamin Bogardus received $500 as compensation.
1808 Benjamin Bogardus and Lucas Elmendorph gave permission to the Village to drain the Mill pond. Note there was still a small pond below the dam nearer to the Esopus Creek that was later referred to as "Couche's Pond".
Benjamin Bogardus died and left property to his wife, Rochel Bogardus
1816 Rochel Bogardus sold the "house only" to Peter E. Osterhouse (and the 'remainder' in 1830)
(1820 Residents list - Geertroy Bogardus owned East side of Frog Alley North of No. Front St.)
1826 Sheriff sold the "house only" at auction to John Sudamn and Issac DuBois
1827 Issac DuBois sold his interest in the property to John Sudamn
1830 Rochel Bogardus sold the remainder of the mill property to Edward O'Neil
1831 John Sudamn and wife sold the house to Edward O'Neil completing the property once again
1834 Edward O'Neil and wife sold the entire property to Robert L. Livingstone
1842 Livingstone sold property to John Converse
1844 John Converse sold to Francis C. Vohees
1869 Francis C. Vohees had died and wife sold to John B. Roe
1883 I found a reference that Henry Darling, a stone cutter, lived in the house in 1883.
1889 287-223 Roe sold to Thomas Cornell
1892, Oct 1- Estate of Thomas Cornell to Wm. Dunnemann (Dutch Billy to locals) - (C.Lang has the original deed or was it a lease?)
1896 - 1902 the Kingston City Directory lists Wm. Dunneman, market gardener, on Converse Street.
1898 Thomas Cornell Estate Sold to Henry C. Soop – wonder what this deed means? – maybe an adjacent parcel? Henry Soop was a Kingston lawyer and banker. He was agent and attorney for the Estate of Thomas Cornell (who died in 1890) as well as Council for the U&D railroad.
1899 355-13 Henry C. Soop sold to William Dunnemann
1902The NY Ontario and Western (O&W) Railroad constucted a branch spur from Summitville north along present Rt 209 to Kingston. They built a new station west and slightly north of the site of the U&D's station at the foot of Fair Street hill by present day Kingston Shopping Plaza. This new railroad bed effectively cut Wm. Dunneman off from his fields between the rr tracks and the creek. Wm "Dutch Billy" told his family that the O&W refused to create an underpass so he could access his fields so he decided he must find another location to farm.
1902 Wm Dunnemann gives an option on all the property (except the home) to Charles Johnson but Johnson must have reneged on the sale as Dunnemann sold the portion between the U&D RR and the creek a year later to Philip Elting
1902,Dec 1 – Wm Dunnemann leased the home (or maybe just the land) to? (probably Simon Keator)
1903,Mar 19 – 375-483, Wm Dunnemann purchases 6 acres on Lucas Avenue from Francis X. Miller for $2,000. The property had a barn on it and my grandmother remembered living there while the farmhouse was being built. When they moved from Frog Alley (1905?), grandma said she pulled a red wagon with their belongings in it all the way to Lucas Avenue.
1904,Sept 20 – Ernest Dunnemann, age 1, died, a resident of 1 Converse Street.
1908 April 8 – A Freeman article says Carrie Terwilliger boards at the home of Simon Keator on Converse Street so Wm. Dunneman must have rented the home to Simon Keator once he moved into his new home on Lucas Avenue.
1915,March – Local historian, Howard Chipp gave a talk on "Old Kingston" and lamented, "Still worse was the changing of the title of Frog Alley, leading to Couche's Pond, where there were frogs, good, loud voiced frogs, to Converse Street."
1915,May – A barn on Converse Street owned by William Dunneman and leased by Simeon Keator was totally destroyed by fire. The barn was full of hay and burned fiercely.
1916,May 9 – Simeon Keator died, age 65, at his home at 1 Converse Street.
1921 485-272 Wm Dunnemann sold home to Clarence A. Clarke
1922,April – Freeman article says "last fall Clarence Clarke bought what is known as the "old Bogardus House" on Converse Street, known in the days of the "Bogarduses" as "Frog Alley". Mr. Clarke is cleaning the embankment and dumping ground behind North Front Street."
1923,Nov. 16– Freeman article says " Wiltwyck Chemical Company from Fair street called out to a chimney fire at the house of Clarence Clark at No. 1 Converse Street.
1937The Frog Alley home was still being used as a residence by the Clarence Clark family in 1937. From an article in the Kingston Daily Freeman Dec. 30, 1937
1943 People's History says the house is occupied by Mrs. Celia Clarke, widow of Clarence.
1961 Advertised for sale for unpaid taxes –"18-22 Converse St, owner Clarence A & Cecelia Clarke"
1962,June – Fire damages a vacant 2 story house on Converse street owned by Cecelia Clark of NYC. A staircase and wainscoting were damaged.
1969,May – A three-man team from the State Historic Trust did a 2-day preliminary test dig looking for the remains of the old stockade. The Frog Alley house and it's surrounding area are believed to be the NorthWest corner of the original stockade built in 1658 by order of Peter Stuyvesant. John Waite, architectural consultant on the dig, discovered two very rare Dutch jamless fireplaces behind a 19th century plaster wall. The fireplaces are of the free hung chimney variety common in Europe during the Middle Ages and brought to the primitive New World by the Dutch settlers. The only other example is in the Memorial House on Huguenot Street in New Paltz. This indicates the building might well be the earliest existing dwelling in the Hudson Valley or the entire country.

Click here to read the Archeological BULLETIN of May 1981 to learn all about the dig! Archeology Report
THIS IS THE FINE PRINT
Do not use any photos without prior permission. If you wish to use a photo, please send me an e-mail stating which photo you would like to use, along with a brief description of the photo's intended use. If permission is granted, I ask that credit is given and a link to this site is provided.
This site is Copyright ©2013, 2015 by James W. Werner
All photos and text are the copyright of either this site or their respective owners.