During the Christmas holidays of 1941, just a few weeks after the war started, I went to say good bye to my friend Bill Richards who had enlisted and was to be sworn into the Army and leave for camp. While he was going through his swearing in I tried to enlist in the Navy. I was not qualified for the regular navy and they were not yet enlisting men in the reserves - seems I had an overbite and bad arches.
In the late spring of 1942 I tried again and was accepted in the Inactive Naval Reserve and temporarily assigned to "Radio School" at WFlL in the Widner building. I was still working at Innes and Suns at 129 N. 12th Street and went to "school" 3 hours a night, 5 nights a week. The secretaries taught us typing and the engineers attempted to teach us Morse code. By the middle of September I had only gotten to about midway in training and felt I just could not take any more. I was shipped to Bainbridge Naval Training Camp near Elkton Maryland. The camp was brand new and looking back now it was probably a bit disorganized. In company number 19 with 119 others we went through "boot camp" for 12 weeks.
There was an ex-marine who did a lot of the drilling and when they found out that I could march and was familiar with drill commands I got into the act. We had several Chiefs who were supposed to be our company commanders but with new ships coming on line and other ships needing replacements we didn't keep them very long. Our first barracks was 12 but we moved to several others before we finally got out in early January.
Several things stand out during 'boot camp'. First was our first hours in camp getting a physical - standing around naked getting checked and then the lines going through the 'clothing issue' line. Then there was the dusty drill field that was so new that there were rocks all over the place.
Probably the most interesting thing that happened to me was our day on the rifle range. It was a very large building that could handle a whole company at one time on the firing line. There was a Chief in charge in the center giving the instructions and explaining the commands with others gunners mates behind groups of 'hoots'. The most important command was to only fire when he said "fire". After going over this for a couple of minutes I heard a command "fire". The only problem with that was it was not the 'chief' I heard. Two others also fired - all three at the same time. Since this was a real no-no we were taken off the line. And so ended gunnery practice. We never had a chance to go back and shoot to qualify.
About half way through boot camp I had the opportunity to apply for advanced schooling. Since I felt I could use what code I had learned I asked for and did get sent to Newport Rhode Island Naval base for Signalman School.
After a short leave, January of 1943, we left Bambridge on a troop train and arrived at New­port late one evening. Complete with seabag and mattress and hammock. We had never been shown how to put up a hammock but we learned real quick. They put us in a barracks that had held the men who had completed school before us and were being shipped out to the fleet. One of the men I met there was a fellow named Hazzard from near Camden New Jersey.
There were a number of us that had come from Bambridge that had never been issued 'un­dress whites' and since 'mess cooks' had to wear whites we were never assigned to serve in the mess hall. They gave us messenger duty or something else.
The fellow in the next hammock was named O'Donovan and he was from New York, his uncle was the prize fight announcer. We got along well together. He was a couple of years older than I but we spent a lot of time on the 'cliff walk' in Newport and the 'Blue Moon cafe' - A top notch typical navy beer joint. When we finally finished school he was assigned to the merchant marine group and I went to the fleet.
Four months later (May 1943) I meet Hazzard again at Lido Beach Long Island and we were assigned to the same ship. The "Clarence K. Bronson" - DD668 being built in Kearney New Jersey and to be commissioned in the Brooklyn Navy Yard in July of 1943. We moved aboard in early July and after fitting out and commissioning we left for Portland Maine - Casco Bay.
Before we left the New York area we went to Staten Island and had the ship degaussed. Sailed up the East River and out into Long Island Sound, through the Cape Cod Channel to Casco Bay where we spent several weeks training and shaking down the ship. We came back to Brooklyn for more fitting out and one weekend when I was home on liberty I met Janet Kuerleber - and that starts another story.
Anyhow - In the fall we took the medium size aircraft carrier "Bellawood", a CVL built on a cruiser hull in Camden New Jersey, on her shakedown to the Caribbean. Trinidad to be exact. One day while she was out training we got an alert that there was a German sub in the area so the other tin can and us got the carrier back in port only to find out that the position that had been given to us was on top of a mountain somewhere. The Bellawood had problems with her training. On the way to Trinidad she lost 5 planes in the sea. I believe we did recover all of the pilots and she flew the largest American Flag we had ever seen. The other can got orders to proceed to the Pacific and since she was short 5 torpedoes we gave her 5 of ours. They were never replaced and the ship was in a number of major actions. She was In the Mare Island Navy yard several years later and had twin 40mm installed. We returned to New York and in the yard they changed our forward 20mm guns for twin 40mm guns. At the time I was in gunnery school learning how to shoot 20mm guns. So much for coordinated efforts.
In November of 1943 we sailed to Boston to pick up TBS Destroyer Tender "Prairie" who had been in the yard there for extensive refitting after a bad fire while she was stationed up in Newfoundland. We meet another destroyer and sailed to the Panama Channel (a nighttime passage that didn't mean much at the time, the only thing I remember is that we turned on every hose or water outlet that could be activated so that the ship could wash off all the salt spray and stains) and were supposed to go directly to Pearl Harbor but we where redirected to San Fran­cisco to pick up replacement crews for ships at Pearl. We were only there about 18 hours but we did get ashore for about 6 hours while loading an additional 100 sailors aboard the destroyers and another group on the Prairie. It took us about three days to get to Pearl and most of it was under water because of very rough seas. We were in Pearl for Thanksgiving and December 7th anniver­sary of the bombing. In December we escorted the minelayer "xxxxx" to Tarawa. We returned to Pearl and on January 16th 1944 we sailed for the Western Pacific.
We had become the squadron flagship for DESRON 50 and were now operating as Task Force 58.3. Later to be known as Mitchner's Raiders. The group was made up with 9 destroyers, two carriers, 1 battleship and couple of cruisers. The group did change a few times but that was the basic arrangement. We usually steamed in a large circle about 6 to 8 miles across. We could see all the ships in the group. (I understand that today, when the same formation is used, the circle is closer to 50 miles across-tough work for signalman.
Our usual group consisted of our 9 DD's plus:
The Enterprise
The Princeton
The Washington or the Indiana
and two or three cruisers.
On the way to the battle area we crossed the International Dateline and the Equator within a few hours of each other. Since we were not yet in a combat zone we were permitted to conduct the appropriate ceremonies to be accepted into 'King Neptune's Court' and therefore progress from 'pollywogs' to 'shellbacks'. All the ships in the group held this ceremony - even the carriers. The 'shellbacks' ruled over everything. You did what they said to do - even the officers who were 'pollywogs'. One of our guys got hit too hard and too low when running the gauntlet and had to be transferred to the 'Big E'. DD's were very important to the carriers because we protected them from the enemy and we picked up the flight crews when they ditched in the ocean. He came back to the ship about 4 days later and what stories he told. Ice cream at every meal, he couldn't spend money at the ship store and he was treaded royally in sick bay.
Aboard ship the crew is divided into 3 groups called 'watches' and the normal routine was for one watch to be 'on duty' and the other two off. 4 hours on, 8 off. Except when you were 'off' in the daytime you were expected to do what ever was necessary - clean, chip paint, paint or whatever. Since we were the squadron flag ship the signal gang bridge was a very busy place. We had only three men in normal duty sections. Since there was no visual communications at night we did not need any more. That left 11 men including the 'flag staff' and the rest of ship's company on the bridge all the time from morning General Quarters until evening General Quarters. From the time we left Pearl in January until late June we were on the bridge about 14 hours a day. Our only privileges were that we could go to the head or the chow line and when the ships store was open we could move up front also.
While on the bridge we were assigned to each signal station on a 2 hour rotating basis.
Spotter - to watch the command flag ship for flag hoist signals, semaphore or flashing light messages.
Signal lights - to send or receive light messages.
Flag bags - to run up the signals when called out by the spotter.
Recorder - to serve the light man and record what he called out to be written down.
Runner - to fill in wherever needed including going for coffee water
The chief and the first class petty officers were the supervisors and interpreters for the signals and relayed the instructions the officers on the bridge.
Signals included changes in the zigzag plan, fueling needs, course changes for launch and recovery of planes. And, as we were squadron flag, we gathered all fuel reports from the other 8 ships, combined them and resent them to the flag ship every morning. Position reports were gathered several times a day. There was never a dull moment.
When we got to a battle area and were at general quarters some of us were assigned gun stations near the bridge. I had the port forward 40mm director with another SN as my range setter.
Saipan, Tinian and Guam
This was our first major action. A couple of days before we hit them we started to get enemy action. Sometimes it was only a plane way off in the distance but as we got closer things picked up. One night after dark we were attacked by Jap planes. We never saw them but we had 'night fighters' in the air equipped with radar and when they were overhead our own radar could pick them up. Tracers and explosions filled the air. After it was all over and we had recovered our planes we found out that we had knocked out of the sky more enemy planes at night than ever before.
The planes of our group attacked Guam and the other islands and helped to cover the troop landings. A couple of things come to mind about the battle.
First, just before the landings, our heavy ships formed a line off shore and let go with 8, 12 and 16 inch guns. Then some other destroyers made a pass with their 5.38 guns. Some of this we could see when the carrier groups were launching or recovering planes near them.
One day we were off the coast of Guam and out of sight and we were recovering planes from a strike. Several planes landed Ok but then a TBF came in and was waved off. He could not get enough air speed to make another pass and swerved off and belly-landed in the water. TBFs have 3 man crews-the pilot, rear gunner and underneath the belly gunner/radio man As soon as they hit the water the rear gunner got out and reached behind his guns and pulled out a rubber boat. The pilot dove into the water and under the plane and pulled out the radioman. They all got in the boat and started rowing after the fleet which was rapidly moving away: Our ship was the closest to the plane and we turned to pick them up and were able to see the whole thing. The pilot was doing the rowing as we pulled up beside them and brought them aboard. They were not hurt badly and were on board for about a week. In the early 90's I learned that the pilot was Lt. George Bush ­ (President). I wrote to him and later got an answer and a copy of the ships log for the five days he was aboard.
Several days after we had picked up the TBF crew we were jumped by a flight of Betty bombers. None of them made it across the task group. It turns out that they had flown at us from some distance away and were just about out of gas. They were supposed to sink us and go to Tinian and refuel. Other ships of the fleet and our subs were further west of Guam and spotted a large fleet of Jap carriers and escorts headed our way. This was the beginning of the First Battle of the Philippine Sea.
All Rights Reserved by Arthur W. Hunter ©2012
Scanned by Steve Hunter – masterpotter@comcast.net

Letter to President Bush!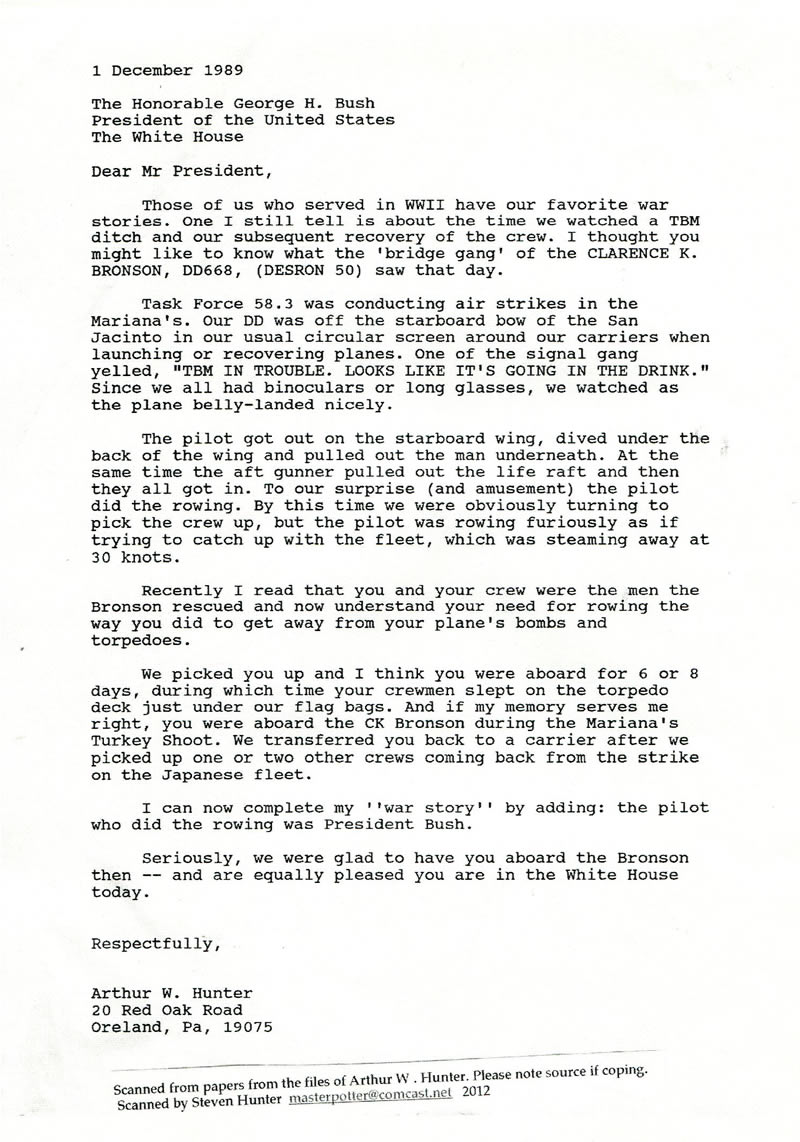 Response from the White House!