THE BATES STEEL MULE!
Here are some GREAT! photos of the Bates Steel Mule from 1917.



This beautiful old brochure was found in the attic of a circa 1908 home in Kingston, NY. Luckily a bunch of past homeowners never bothered to pick it up and discard it. It was found lying face down so the last page is black and unreadable from so many years of dust and dirt settling on it, but the inside is in great condition as shown in the accompanying photos. The new home owner was thrilled to find this brochure almost 100 years after it was printed.
If the model designation "nineteen seventeen" can be assumed to be the year of manufacture this brochure describes one of Bates' early machines. A very complicated piece of machinery for such an early time in the tractor industry.
From limited info found on the internet it seems that the Steel Mule was first built in 1913. This first Steel Mule used a 4-inch bore-by-6-inch stroke engine advertised to make 30hp on kerosene fuel. It weighed 5,600 pounds and cost $985. It was a semi-crawler with one 15-inch rear crawler track and two front wheels. A very unique configuration for sure!
In 1919, the Bates Tractor Co. merged with the Joliet Oil Tractor Co. to form Bates Machine & Tractor Co. The new company still made a half-track but that was soon phased out for a more modern caterpillar-type tractor that had one 10-inch-by-52-inch crawler on each side. This crawler had an Erd 4-cylinder, 4-inch-bore by-6-inch stroke engine, weighed 4,300 pounds, and could pull three or four 14-inch plows.
For comparison, Henry Ford built his Fordson Model F tractor from 1917 to 1928. It used a four cylinder motor initially made by Hercules with a 4-inch bore and a 5-in stroke advertised to make 20hp. The Fordson tractor on steel wheels weighted about 2900# and initially sold for just over $700.
A 1916 ad from Seneca County, NY for an early Steel Mule follows the brocure, as well as a 1921 ad for the newer Steel Mule crawler.
At the bottom of the page are a couple of interesting Bates ads from a 1917 magazine as well as an ad for the Erd motor.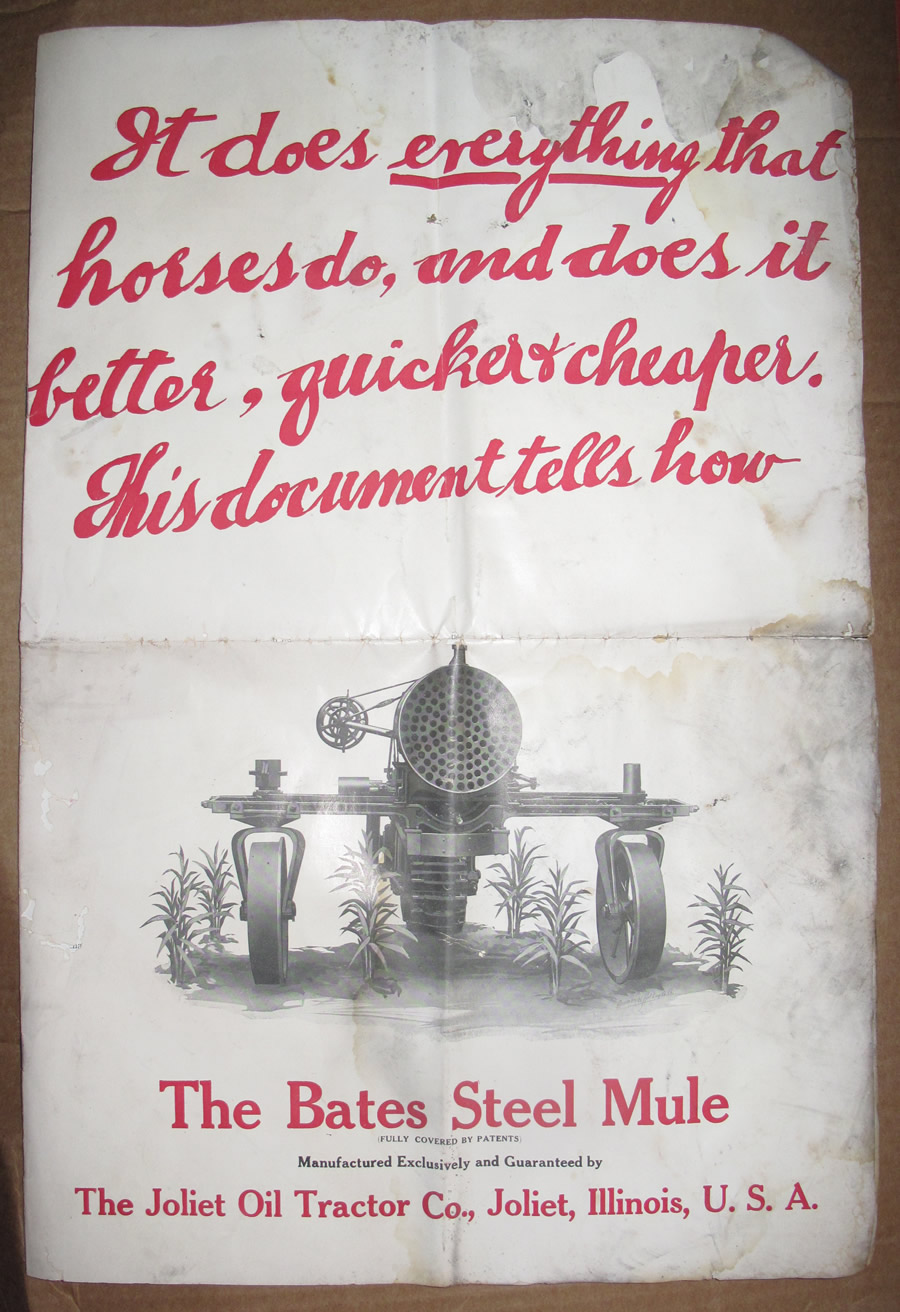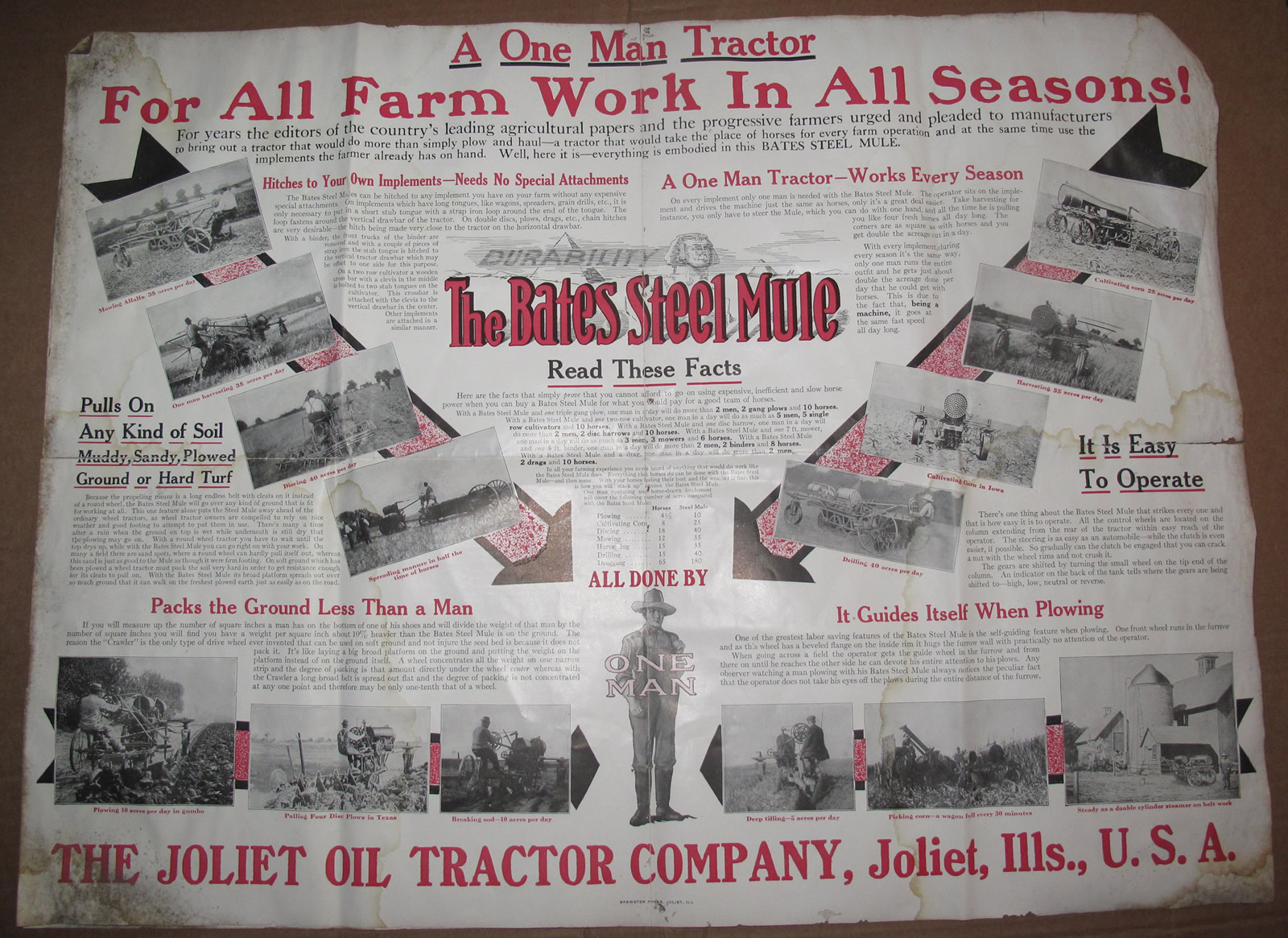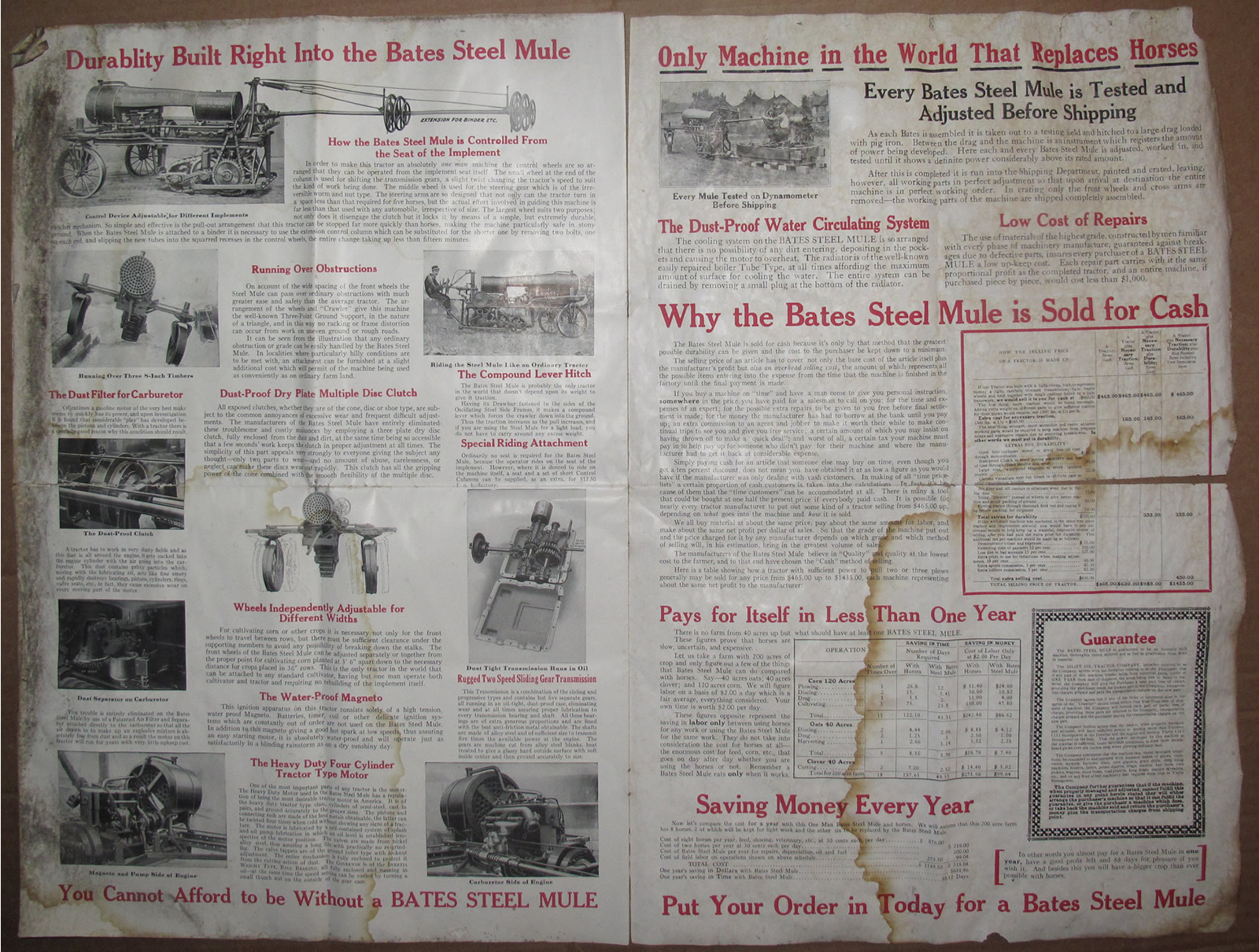 THIS IS THE FINE PRINT
Do not use any photos without prior permission. If you wish to use a photo, please send me an e-mail stating which photo you would like to use, along with a brief description of the photo's intended use. If permission is granted, I ask that credit is given and a link to this site is provided.
This site is Copyright ©2016 by James W. Werner
All photos and text are the copyright of either this site or their respective owners.