US NAVY BOOT CAMP IN WW2

CHARLES E. WERNER
Great Lakes Training Camp Nov. 16, 1942


CHARLES E. WERNER
US Naval Training School, Detroit 1943
My uncle, Charles Werner, was one of many men called to serve during World War Two. Uncle Charlie enlisted in September 1942 and spent a month of boot camp at Green Bay, Illinois (Great Lakes Training Camp). Upon arriving at Great Lakes, Uncle Charlie received a certificate appointing him an Apprentice Seaman in the United States Navy, Petty Officer-Third Class. This appointment was to remain in force until he was transferred from the Great Lakes Recruit Training Division. He then went on to Detroit, Michigan to attend four months of Electrical School at the US Navy Training School there. He graduated early in 1943 as an Electrician's Mate- First Class and was then sent to a staging area for Destroyer crews in Lido Beach, Long Island to wait for a ship assignment. His ship, a destroyer – the CK Bronson- was still in a New Jersey shipyard being completed but, by June 24, 1943 he was on the Bronson and the crew was preparing for the ship's "shakedown" cruise. The Bronson and her crew spent the rest of the war with the Pacific Fleet task force.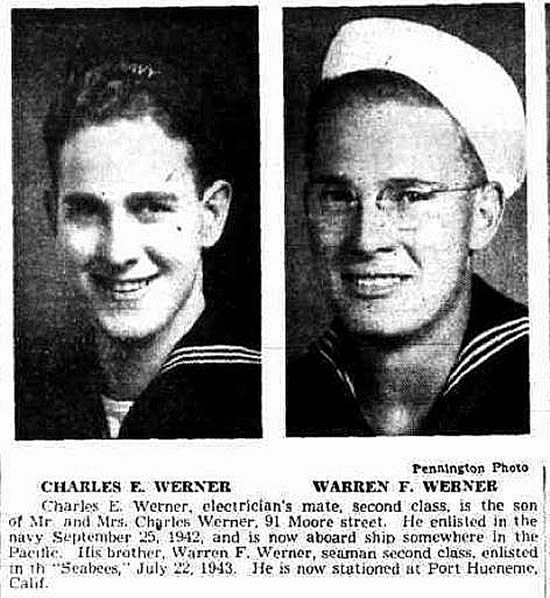 Here is Charlie and his brother in a newspaper clipping dated Feb. 7, 1944.

---
*Click on either photo below to see it full size then hold CTRL and tap "+" to zoom in! If you recognize a relative please let me know so I can add his identification to the photo!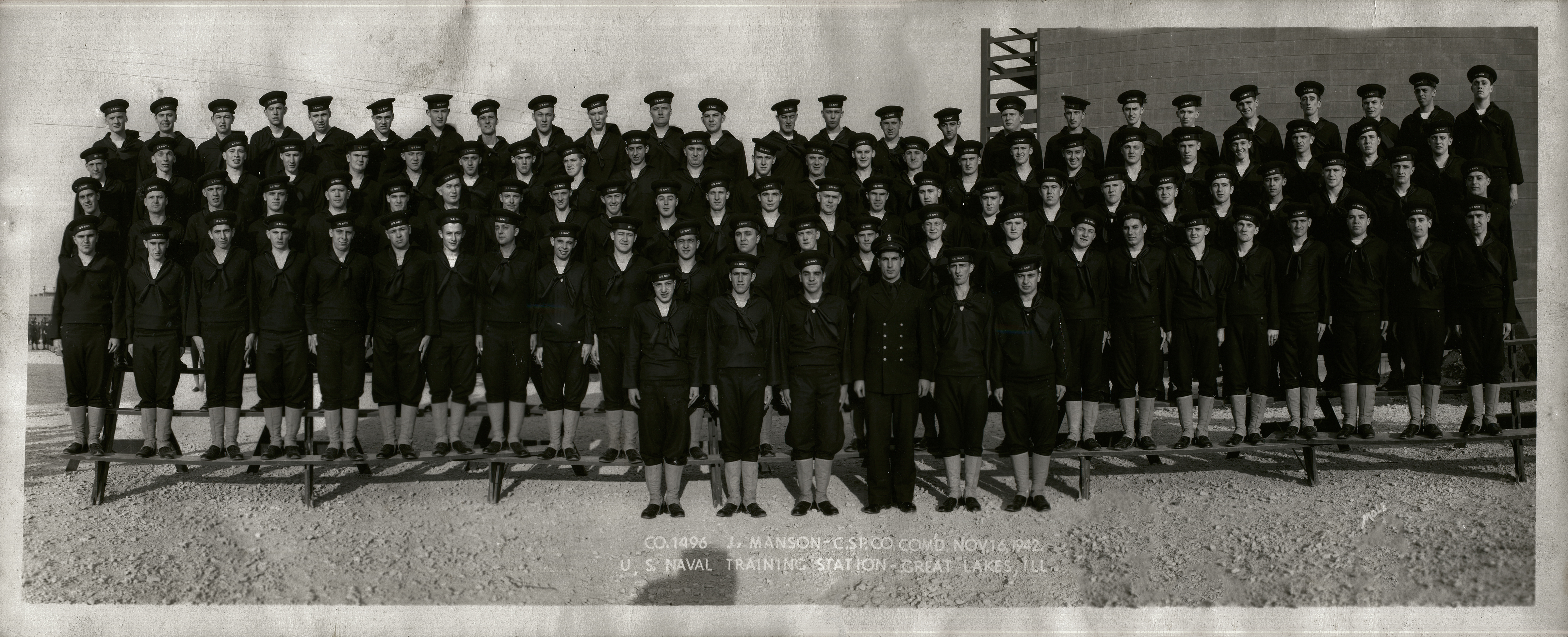 Co. 1496 US Naval Training Station, Great Lakes, Illinois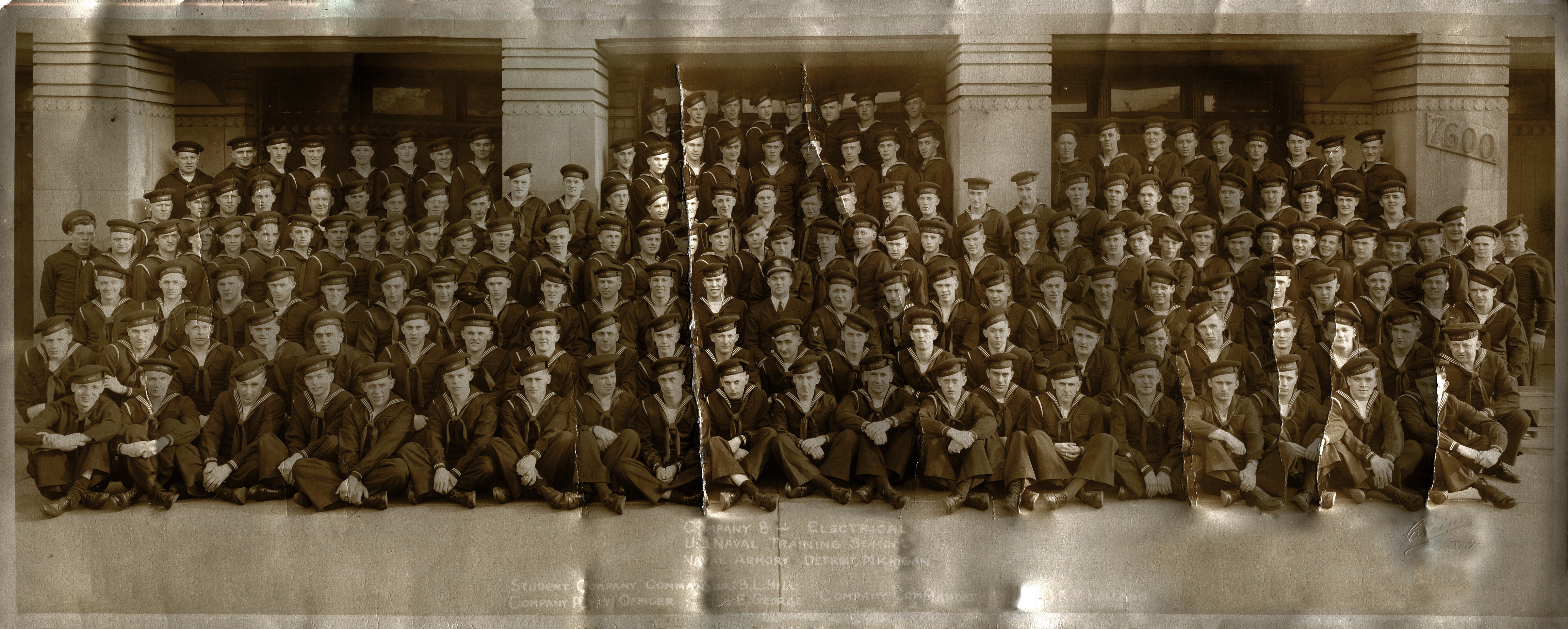 Company 8- Electrical, US Naval Training School, Detroit, Michigan

GREAT LAKES TRAINING CAMP IN WW2
Below is a short history of the Great Lakes Naval Station adapted from the official US Navy website - http://www.greatlakesnavygraduation.com/index.asp
---
Great Lakes Naval Station is located adjacent to Waukegan, Illinois on the north of Chicago. Naval Station Great Lakes is the largest military installation in Illinois, and the largest training station in the Navy. Since its founding in 1911, the training station has prepared men and women for duty in Naval Service and continues to train recruits today.
Today Great Lakes commands include the Recruit Training Command, Training Support Center and Navy Recruiting District Chicago. It is the home of the Navy's only basic training facility (i.e. boot camp). The base today is like a small city with its own Fire Department, Naval Security Forces (Police), and Public Works Department. It includes 1,153 buildings on 1,628 acres, and uses 50 miles of roadway to provide access to the station's facilities.
Over a hundred years ago in 1905, President Theodore Roosevelt presided over the founding of Naval Station Great Lakes. At the time, it was unheard of to have Naval training be done more than a thousand miles away from any ocean. Great Lakes opened its gates on July 1, 1911. At the time war was declared in April 1917 there were more than 9,000 recruits at Great Lakes. By the time WW1 had ended there were 45,000 sailors in training and over 125,000 had already been trained and graduated.
By the end of 1940, with the growing threats abroad, Congress had approved a doubling of the Navy's strength and the expansion of Great Lakes Naval Station. On Dec. 9, 1940, the first class of the newly established Class A Service School (the ancestor of Training Support Center Great Lakes) started its studies.
At the time of the attack on Pearl Harbor on Dec. 7, 1941 there were just about 6,000 Sailors training at Great Lakes. Six months later, there were 68,000 and by September 1942, over 100,000 Great Lakes Sailors were in training.
Between the attack on Pearl Harbor and the surrender of Japan on August 14, 1945, more than 16 million Americans had served on active duty and over four million of these were in the Navy. One million of those Sailors had been trained at Great Lakes.
By the middle of 1943, there were more than 700 instructors at Class A Service Schools at Great Lakes, a sign of how important Great Lakes deemed technical training. Graduates could be trained and rated as an; Electrician's Mate (EM),Fire Controlman (FC),Gunner's Mate (GM),Boatswain's Mate (BM),Damage Controlman (DC),Engineman (EN),Machinery Repairman (MR),Quartermaster (QM),Machinist Mate (MM) and many other specialized skills and technical fields.
---
If you want to learn more about serving on a US Navy Destroyer during wartime - follow the links below!
---
CONTACT ME WITH YOUR FEEDBACK
---
THIS IS THE FINE PRINT
Do not use any photos without prior permission. If you wish to use a photo, please send me an e-mail stating which photo you would like to use, along with a brief description of the photo's intended use. If permission is granted, I ask that credit is given and a link to this site is provided.
This site is Copyright © 2017 by James W. Werner.
All photos and text are the copyright of either this site or their respective owners.